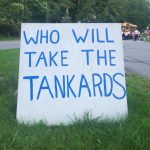 "Who Will Take The Tankards?" – The sign at the end of Spring Street near St John's Church has popped up again! What does it mean?
It means the Church Tavern Biathlon is ready for its 6th year! The 7 mile biking portion of the course circles Lake Truesdale in a counter-clockwise manner while the run portion follows a shorter 4 mile course where runners catch a glimpse of the lake.
The South Salem Church Tavern Biathlon, is hosted by St. John's Church and will take place on Labor Day, September 5th at 9:30am. The biathlon is returning for its sixth year in 2016.
The bike course starts at St. John's at the corner of Spring Street and Route 35, travels down Spring Street, up Church Tavern road and back down to Spring Street where it backtracks to Lake Shore Drive then Truesdale Lake Drive. The course takes a right onto Salem Lane and then rejoins Truesdale Lake Drive for a bit (right turn) before making a left onto Boway then next left onto Country Lane onto Hoyt over the dam and then up Bouton Street (not Gilbert) up the hill.
At the intersection of Bouton and Lake Shore the course continues down Lake Shore Drive on the west side of the lake. Bikers make the final right turn onto Spring Street for the last half mile and then transition to the running leg.
The running course is out and back on Spring Street with the Church Tavern loop thrown in again in case you didn't get enough of the hill the first time around on the bike!
There will be prizes, BBQ, and music immediately following the event.
Locally the event supports The Community Center of Northern Westchester. Nationally, it supports Puppies Behind Bars – benefiting veterans with guide and support dogs. Each is a very worthy cause and each does a great job fulfilling their missions responsibly.
To sign up for the Biathlon (7 mile bike, 4 mile run) visit the registration page here: http://www.raceit.com/search/event.aspx?id=37137. You can register as individual ($35), team relay ($50) or to walk the course ($20).
The Run/Walk participants will be timed this year and will leave soon after the Biathlon start. You still get a medal, free BBQ, and the satisfaction of knowing you helped three great charities.
If you are not planning to run, come out and cheer the runners & bikers on! Or volunteer!
Contact Fred Rueck with any questions about the race (frrueck@hotmail.com) or if you'd like to become a volunteer, a sponsor, or a booster.