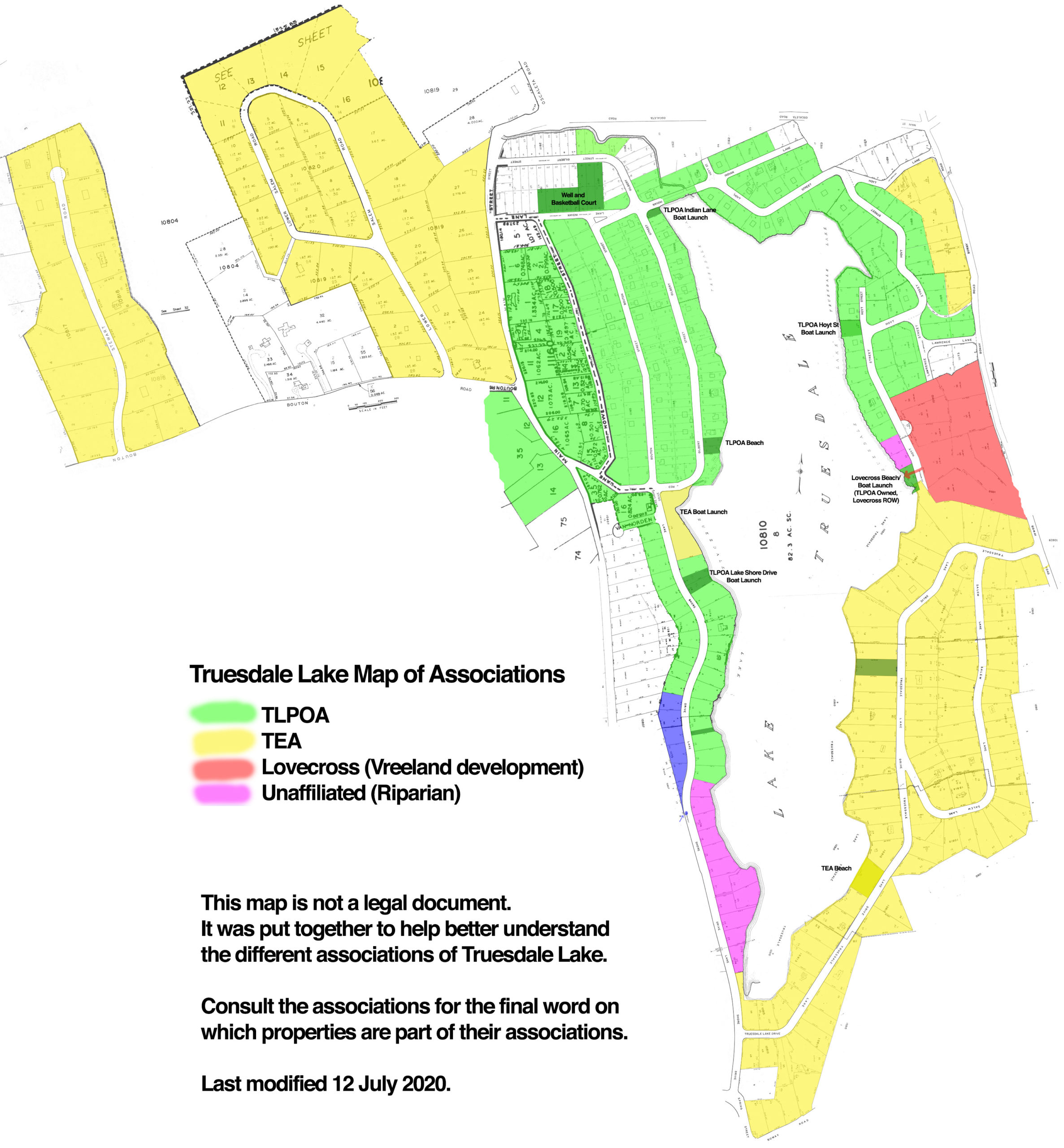 Note: boat storage on our private boat launch properties is private for residents in good standing in the Truesdale Associations. There is no storage of boats allowed on these private lots. Boats will be removed and sold if they are not properly registered.
The associations are the final authority on which properties are within their borders.
There are three homeowner/beach associations on Truesdale Lake. Check the interactive associations map here.
Click the links to visit the association information pages:
Truesdale Estates Association (TEA) with 85 members covering approximately 150 individual deeded properties. Marked in

yellow

in the map above. (Note: not all marked in yellow are members in good standing, check the property list here AND contact tea@truesdalelake.com if you have questions about a property you are considering purchasing. If the current owners are not members in good standing any new owners will have to pay an initiation fee to rejoin the TEA.)
Truesdale Lake Property Owners Association (TLPOA) with 150 owners covering nearly 200 individual properties. Marked in

green

in the map above.
Lovecross/Vreeland Association with 8 owners covering at least 10 different properties. Marked in

red

in the map above.
In addition, there are approximately 10 houses not in either association but with riparian (lakeside) property on Lake Shore Drive and one property on Hoyt Street at the cul-de-sac. They are marked in purple in the map above.
My deed says we have "Lake Rights" but I am not part of an existing association and I have never paid dues.
Finally, there are some houses with "deeded lake rights" mentioned in their deeds but either the associations carrying those rights no longer exist, or properties they had rights through have been built on and the easements extinguished.
Most of these orphaned properties are no longer able to access the lake since their associations have dissolved or the easements through which they accessed the lake have been built on. If easements were not maintained for decade as required by land use law to maintain a right of way, the easement is extinguished. Consult a land-use attorney if you have questions about why your property no longer has "lake rights" to Truesdale Lake.
There are several properties on the west side of Lake Shore Drive north of the library who have access to the lake through a deeded right-of-way, riparian lot #36H-11174-11 on Lake Shore Drive. Buyers of these properties should check their deeds and maintain the right of way if they wish to keep access to the lake. Right of way may be lost if property and pathway is not maintained.
The associations have no legal knowledge of other individual properties outside of their boundaries. Consult an attorney if you have questions about a property you own or a property you are looking to purchase that is not listed in the associations property list.
Here are some maps from the county and the associations from the 1920's, 1930's, and 1950's that show some of the evolution of the lake, the associations, and easements: https://truesdalelake.com/associations/tea/tea-property-listing/tea-subdivision-scans/ (includes maps from TLPOA and others prior to the TEA forming in the 1950s)
(Consult an attorney if you have specific questions about a specific piece of land, this page is not legal advice, only general information. The associations cannot "bend the rules" for properties not in their association.)
For a very high resolution version of the "All Associations" map above, click here.
Individual tax maps link (used to construct the large map above).
Listing of properties for each association or group of properties:
This information is provided as is with no guarantee of accuracy — although many people have worked to make sure it is accurate.
The associations are the final authority on which properties are within their borders.
Consult the individual associations for definitive answers.