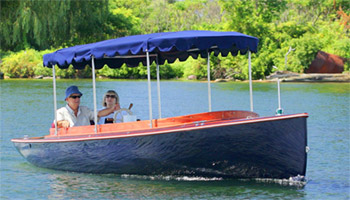 A Truesdale Lake fan recently alerted us to these high end Canadian-made electric boats made by The Canadian Electric Boat Company. Perfect for petroleum-free Lake Truesdale!
from the website:
"Most boat builders offer speed. When this electric boat was designed, CEBC had more sophisticated pleasures in mind, we wanted to enable you to truly relax and appreciate the scenery with your family and friends. Thus, we decided to slow you down a notch to enable you to take your time. This was the idea behind the creation of our electric boats, pleasure-crafts especially designed for those who are interested in more leisurely navigation….
The fibreglass hull has been designed by Ian Bruce, who also designed the "Laser", an Olympic-class sailing boat."
The draft on the larger boat is 20″ so certain parts of the lake would be chancy. The smaller boat seats 4-5, the larger boat seats up to 8 adults.
The two models start at C$30,000 and C$55,000 respectively. That's before options like a 12v portable fridge, canopy, radio, and banquet table. See the website for more details if interested…
…And be sure to invite me along if you spring for one!