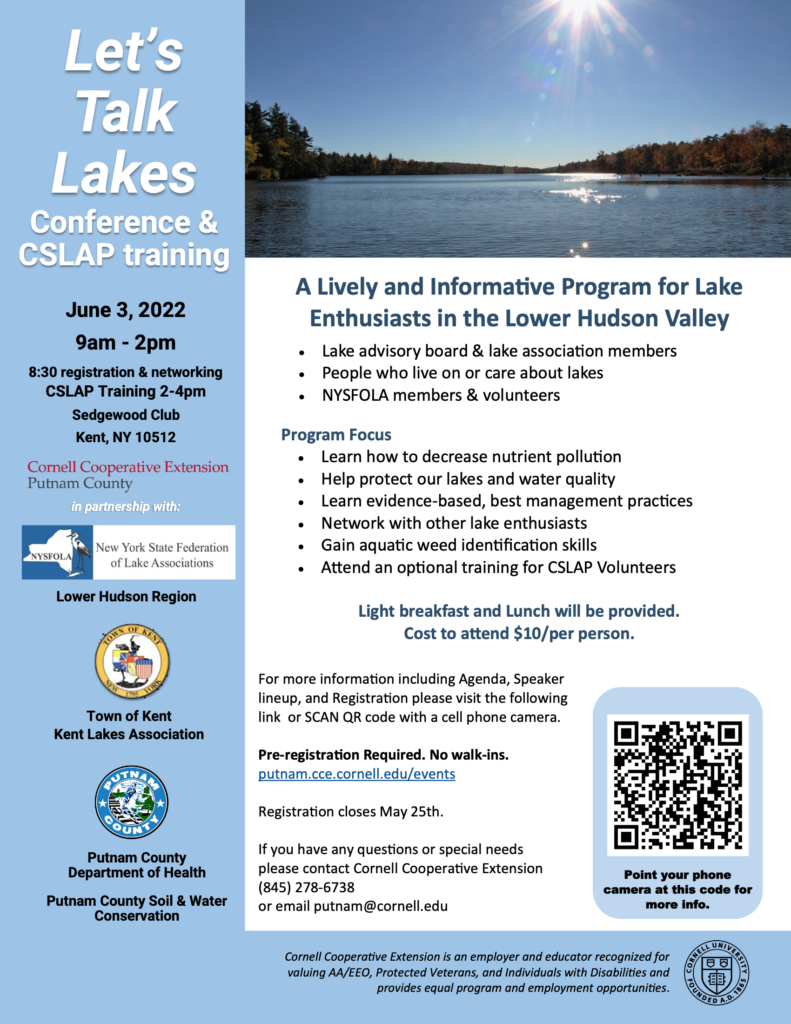 June 3, 2022; 9am – 2pm • Sedgewood Club, Kent, NY
8:30 registration & networking CSLAP Training 2-4pm
Meeting set up in partnership with Cornell Cooperative Extension, the New York Federation of Lake Associations (NYSFOLA), Town of Kent, Putnam County Dept of Health, and Putnam County Soil & Water Conservation.
Registration only, no walk-ins: https://putnam.cce.cornell.edu/events
Registration closes May 25th.
A Lively and Informative Program for Lake Enthusiasts in the Lower Hudson Valley
Who should attend?
Lake advisory board & lake association members
People who live on or care about lakes
NYSFOLA members & volunteers Program Focus

Learn how to decrease nutrient pollution
Help protect our lakes and water quality
Learn evidence-based, best management practices
Network with other lake enthusiasts
Gain aquatic weed identification skills
Attend an optional training for CSLAP Volunteers
Light breakfast and Lunch will be provided. Cost to attend $10/per person.
For more information including Agenda, Speaker lineup, and Registration please visit the following link or SCAN QR code with a cell phone camera.
If you have any questions or special needs please contact Cornell Cooperative Extension (845) 278-6738 or email putnam@cornell.edu