All Posts tagged drawdownreport – see all blow-by-blow updates (inclucing this post) as they were posted and communicated in late 2019 through early 2020.
Summary: January 25, 2020 marked the last day of drawdown target depth – where the lake's level, in its fifth cycle, was three feet below the spillway ramp. The water began to rise after both 12" siphons had shut themselves down. The west siphon shut down early due to an enormous mass of fishing line and a fishing rod around tree limbs wedged against and inside the intake. See photos at the end of this report.
When both 12″ siphons shut themselves down at the fifth target depth, reached on JAN 22nd, the lake refilled quickly in the next two weeks with only two inches of rainfall plus frozen ground and snow melt which greatly increased inflow from our vast watershed area.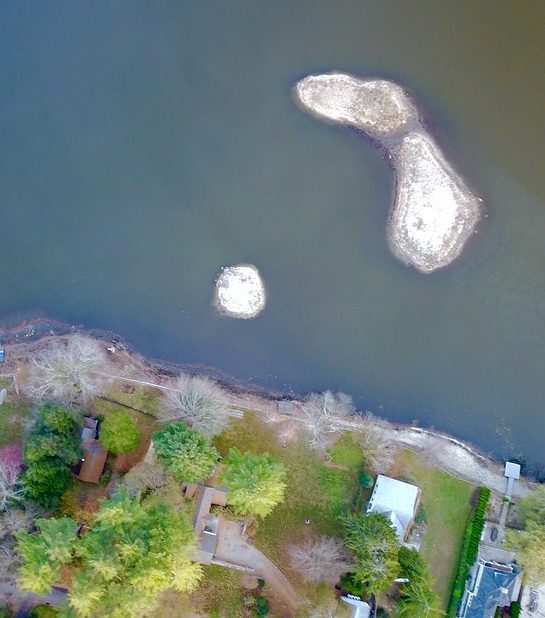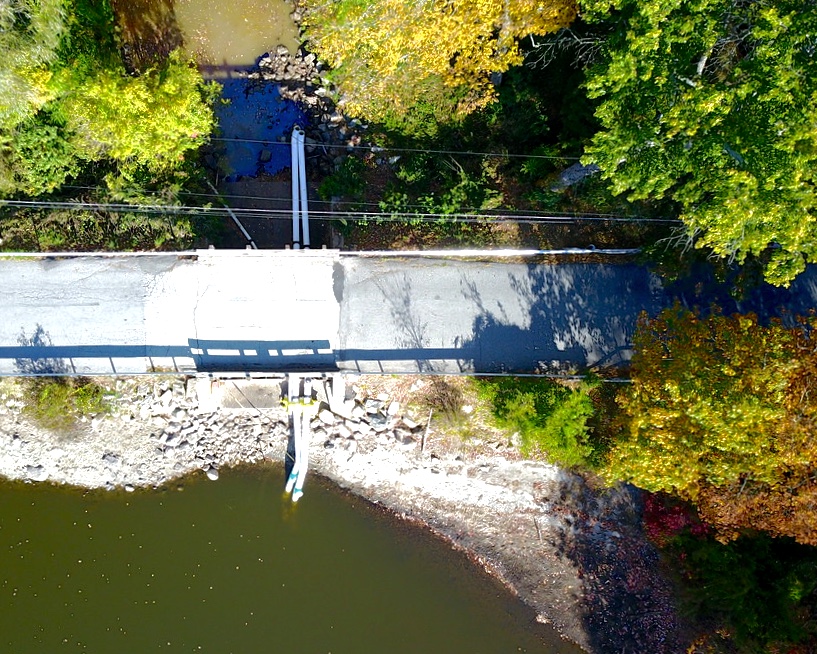 February 8th, 2020 marked the day the lake reached winter level when the water rose three feet back to the spillway ramp with the 6″ siphon still flowing. This represents a ratio of 18 inches of lake level rise for each inch of rainfall.
DD Month Rain and 30-year 3-foot below Spillway
2019-2020 SWE total average Target Depth achieved
SEP (dry) 0.6" 4.5" 1st – SUN 09/22/19
OCT (wet) 7.4" 4.6" 2nd – MON 10/07/19
NOV (avg) 3.1" 4.4" 3rd – TUE 11/07/19
DEC (wet) 6.3" 4.1" 4th – SUN 12/01/19
JAN (dry) 2.3" 3.7" 5th – WED 01/22/20
FEB (dry) 3.1" 3.0" Weir Boards – FRI 02/14/20
Note that December 2019 was quite wet and matched last year's December 2018 total of 6.3 inches of rain. This graph was prepared by Janet Andersen, who operates the sister-gauge (NY-WC-6) to our Truesdale Lake precipitation gauge (NY-WC-22).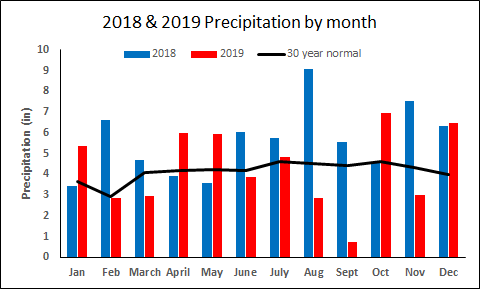 For comparison, the recorded final Ice-Out dates for Truesdale Lake are:
2014 ~ APR 04
2015 ~ MAR 10
2016 ~ FEB 26
2017 ~ MAR 27
2018 ~ FEB 22
2019 ~ MAR 20
2020 ~ FEB 08
I dove down after both siphons had shut down and the surface iced had melted. I found an enormous mass of vegetation and tree limbs wrapped in tangled fishing line and an entire broken fishing rod and reel against and inside the intake of the west siphon. Remember please, that all fishing from the bridge and the entire dam, all boatyards and all beaches and the entire exposed lakebed during drawdowns is prohibited.
Daily Observations:
1/10 FRI LG -2.2' Outflow exceeds inflow. Dry hydrant intake head exposed.
1/12 SUN LG -2.5' West 12" siphon shuts down. The 6'' & east 12" siphons continue flowing.
1/13 MON LG -2.4' Winter Storm ISAIAH brings 0.27" rain.
1/18 SAT LG -2.7' Winter Storm JACOB brings 3.2" snow with 0.4" SWE.
Fire Dept works to extend the #8 dry hydrant intake head.
1/22 WED LG -3.0' Target Depth reached for the fifth time during this drawdown.
East 12″ siphon shuts down.
1/25 SAT LG -3.0' 4th day at target depth #5. Exposed beaches are compacted and frozen.
1/26 SUN LG -2.0' Lake level rises 12" after 1.15" rainfall & 0.4" snow melt.
1/31 FRI LG -1.0' Lake level rises another 12" with only 6" siphon outflow.
2/2 WED LG -0.8' Dry day #7 with inflow exceeding outflow. Ice melting.
2/5 WED LG -0.5' Lake rising and approaching spillway winter level. 0.12" rain.
2/6 THU LG -0.3' Lara's Galapagos re-submerge until next drawdown.
2/7 FRI LG -0.0' Winter Storm KADE with 0.7" rain & 6″ siphon flowing.
2/8 SAT LG +0.1' ICE-OUT occurs. The lake level rises to the spillway ramp (normal winter level). Tree limbs tangled in fishing line and a fishing rod were found inside and against the west siphon intake, which was pulled free.
2/10 MON LG +0.3' Winter Storm LAMONT, light lake freezing and brief flurries under "Full Snow Moon."
2/12 WED LG +0.5' Winter Storm MABEL approaches.
2/14 FRI LG +1.0' Lake at Summer level after additional 1.7″ rain. Members who are not in the Polar Bear Club may want to wait before swimming. Lake is again available for resident-only fishing and sailing in boats with blue Truesdale Lake registration stickers. Fishing from beaches, boat yards and the bridge is prohibited.
---
Janet Andersen is the President of the Three Lakes Council (https://www.threelakescouncil.org/about-us/whos-who/) which was organized in 1970 to coordinate the environmental efforts for the Lake Waccabuc – Oscaleta – Rippowan watershed. Janet also operates the precipitation gauge in Twin Lakes Village and it is her data that I provided to Harold Ossher for 2018. (All the data for 2019 came from our Truesdale Lake precipitation gauge which began operation January 2019.)
From: Janet Andersen
Date: Sat, Feb 29, 2020 at 4:31 PM
Subject: Re: Drawdown Report #13
To: Scot Evans
Scot –
Thanks so much for continuing to keep me on copy and for the shout out on the precip graph.
I've also been keeping daily lake levels (with an arbitrary zero) for a few years, but I haven't been able to tie the lake level to the precip very accurately. Your number of 18″ for every inch of rain is amazing. I've never been able to do this for our lakes with the snow / rain / evapotranspiration / dam leakage all involved. Have you gotten an evapotranspirator gauge yet? It's only out during non-freezing weather. And then we have beavers that sometimes dam up one, two, or three lakes – lots of factors make this too tough for me to feel confident about. Do you have any idea of the acres of watershed : acres of lake ratio? I suspect the lake gain per inch of rain is seasonal, but it's still a fascinating number.
I've pasted a chart for this year's precip. I'll add the one for last winter, which was also benign.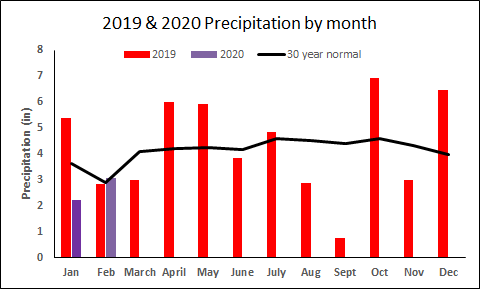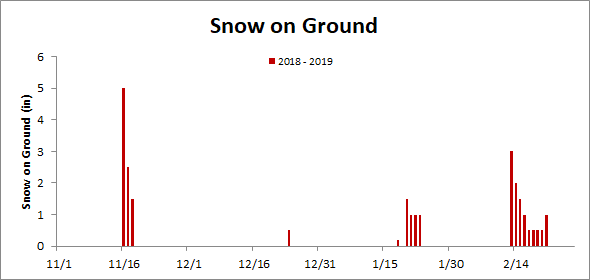 With great appreciation for the info you're providing!
Jan
---
Jan – Thanks for your note and your data!
Our watershed : lake ratio is 2380 acres watershed : 83 acre lake surface — or 28.7 : 1. Here's the relevant paragraph from our 2001 lake study:
"The portion of this watershed contributing surface runoff to the lake is large (2,380± acres, 963 ha), relative to the size of the lake (83 acres, 33.6 ha) (Figure 1). The majority of this watershed is located to the east of the lake and contains the Pumping Station Swamp. The size of the watershed creates a watershed to lake ratio of 28.7:1. The amount of rainfall draining to the lake was calculated using a runoff value of approximately 55 percent of precipitation (CT DEP 1982), an annual precipitation value of 47.5 inches per year (Soil Survey of Putnam and Westchester Counties, New York, 1994), and 68.6 cm (27 inches) per year of surface lake evaporation. Therefore, the net amount of rainfall that drains to the lake is large, (1.6 billion gallons) annually or an average daily flow of 4 million gallons per day. Thus, on an annual basis, the lake, with a volume of approximately 99,150,000 gallons, shows a moderate turnover rate (hydraulic residence time) of 16.2 times per year or every 22 days."

Source: http://truesdalelake.com/projects/stormwater-management-projects/land-tech-2001-lake-evaluation/ (8th paragraph of report)
The flow rates are average over the year. For example at the end of our summer 2019 drought with our October rains, I suspect we had more absorption into our parched watershed soils for a few weeks until they became saturated again. Then when the additional rains came after then in Nov and Dec we likely got a higher % run off and a lower percent absorption. I am sure Harold and Scot will have the data to either confirm or dispute my suspicion.
Take care, Rob