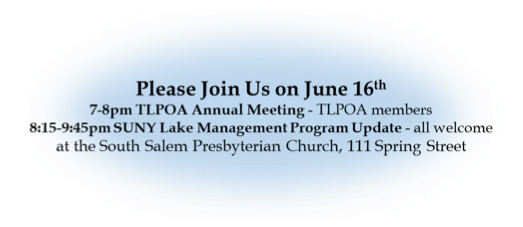 Reminder: Two meetings on Thursday evening 6/16 at the South Salem Presbyterian Church.
TLPOA members will meet from 7 – 8 p.m. — to review TLPOA matters (our budget, our water system, our plans for the coming year). This first meeting is only for TLPOA members.
Then, at 8:15 – all those interested in Truesdale Lake are invited for the second meeting. Christian Jenne (from the SUNY Oneonta lake management team – who has been working with us for the past two years) — will make a presentation — and then we will have some time for questions and to discuss "next steps."
The second meeting is open to all lake residents and will run from 8:15 until about 9:45.