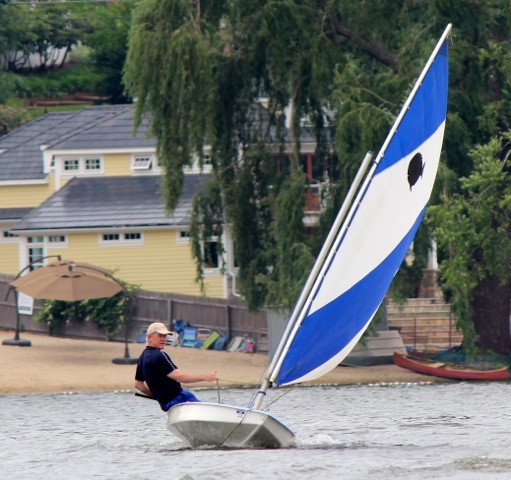 Fleet #27 Commodore Ira Sanchick has announced that –weather permitting — the traditional Truesdale Lake President's Cup race will be held at 2pm September 1st (Labor Day Monday).
Start location: start buoys near Patek's old house — across from Gilbert st beach.
Start time: 2pm — if you are coming up from the south end of the lake leave yourself 15-20 minutes sail time to reach start area by 2pm.
Course will be full course (possibly twice around if the wind favors us!). Clockwise or counter clockwise and start direction will be determined by the prevailing wind tomorrow. A map of the race buoys is here: http://truesdalelake.com/projects/maps/
Info about the fleet and brief race rules are here http://truesdalelake.com/boats/sunfish-fleet-27/
Lake sailors are a friendly and welcoming bunch. Don't be shy if you haven't raced before, we can 'show you the ropes' in a literal sense. If you have an extra sailboat, bring a friend! Come out and sail!
If you are around the lake and want to watch, spectators are always welcome! Remember sailboats have right of way vs human or electric powered boats. So if you see a racing sailboat heading your way please give way and clear the sailing lane.