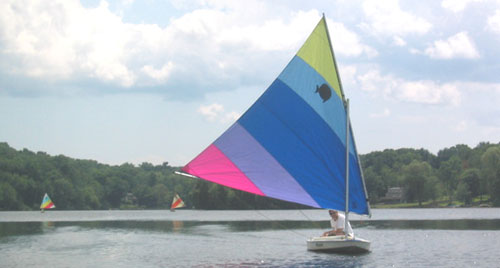 Congratulations to sailor Ira Sanchick who won the annual Truesdale Lake President's Cup race on Labor Day, September 6th, 2004.
Ten boats competed this year on a great sunny day.
The race is traditionally run on Labor Day Monday each year. The course is TWO times around all buoys in the lake (aka "The Long Course").
The pack was together through the first two buoys on the first leg when Ira, who was searching for wind on the area of the lake near his house found his puff. He rode that wind to the lead around the third buoy and built up his lead into the second lap.
That was when Mark Patek started narrowing his lead bit by patient bit. Ira managed to hold off Mark into the second lap around each of the buoys. At the last buoy, Mark finally caught up when they rounded the marker nearly even.
Ira was still ahead just barely. They worked upwind to the finish with Ira the windward boat. Mark turned for the final push to the line and Ira held with him to win by just several feet.
Ira commented "I was happy to be in the lead, but I knew it was just a matter of time before Mark and Jack caught up to me. I was just hoping they wouldn't pass me before the finish line."
The water and air temps are dropping now. The boats will soon be in dry dock for the winter. But next spring the sailors of Truesdale Lake Sunfish Fleet #27 will be back out racing again!
To see more information about Sunfish racing on Truesdale Lake, visit http://truesdalelake.com/boats/sunfish-fleet-27/